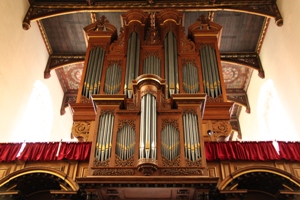 Trinity College Choir has been broadcasting its services live on the internet since 2012 and making them available through the Choir website to listen again. There is now a considerable archive of live recordings of the Choir.
The webcasts not only feature choral music but also all the organ voluntaries played by the two organ scholars, so there is now a wide range of organ music available dating from the 16th to the 21st centuries. The College's fine organ, built by the Swiss firm of Metzler Orgelbau, is widely regarded as one of the finest instruments in the world. It is perfectly suited to the music of the German Baroque, particularly that of J.S. Bach.
We are delighted to launch this new feature allowing listeners to search and browse every performance of Bach's organ music given at Trinity in recent years, both by the organ scholars and also by visiting recitalists playing for our Sunday evening organ recital series. The website already contains a large cross-section of Bach's organ works. A number of works have been performed multiple times and by different organists, giving listeners the chance to hear a variety of interpretations.
We hope that you enjoy the new feature and would be pleased to have your feedback by email to music@trin.cam.ac.uk
In 2016 we celebrated the 40th anniversary of the completion of the organ. To inaugurate the organ, Richard Marlow performed the complete organ works of J S Bach in recitals over the academic year 1976-77. To mark the anniversary, Trinity College Music Society hosted Bach at Trinity in 2016-17, once again performing the complete organ works.