Beyond All Mortal Dreams - Classics Today.com
> See recording details...
It's true–and I've commented on this before–that it's a relatively rare thing to hear a European choir giving more than occasional attention to works by American composers. Perhaps they just don't know the repertoire; perhaps they consider it somehow inferior to the great and abundant works by composers of their homelands and neighbors. Well, happily here's a program, by one of Britain's top choirs, that shows not only a special knowledge of repertoire and composers, but through these excellent performances shows off music that is every bit as sophisticated and worthy of attention as anything being written by Europeans of today or of the past century. And none of it is by Eric Whitacre or Morten Lauridsen! (Stephen Layton has directed his choir Polyphony in acclaimed recordings by both of those current favorites.)
Anyone looking to discover some (mostly) modern choral music that's rooted enough in traditional forms and language that its decidedly "modern" elements and ideas are not only comprehensible but immediately appealing to ear and aesthetic sense, will find hours of pleasure among these 19 works. The opening piece–and one of the earliest composed (1991)–is René Clausen's Tonight eternity alone, its rich texture, perfectly integrated melodic and harmonic material, and its projection of both serenity and power ideally setting the stage for three works by Steven Stucky, who takes texture and harmony to a more complex yet no less "accessible" level.
The liner notes mention Stucky is a noted biographer of Witold Lutoslawski and his disc-mate Frank Ferko is a leading expert on the music of Olivier Messiaen. However, when you hear the opening chord–and subsequent harmonies and chant-like setting of O admirabile commercium, you'd swear Stucky was the Messiaen admirer, what with its inescapable references to Messiaen's classic O sacrum convivium. Yet, in Stucky's own setting of that latter text, he opts for a dramatic, highly energetic realization, with churning, rhythmic chanting, lots of pungent dissonance, but completely within a tightly controlled if sometimes ambiguous tonal framework.
The most interesting discovery for me was the music of Norwegian-born Ola Gjeilo–his Sanctus is a stunning piece, with multi-divisi textures and stylistic features that create a new world out of sounds reminiscent of those you hear in Russian/Baltic/Scandinavian sacred choral traditions. Stephen Paulus' music is always a pleasure, and we get three works here, including the well-loved Longfellow setting, The day is done.
I was a little surprised to find the three Marian motets and another work by Healey Willan included here–not that the motets aren't among the gems of 20th-century sacred choral music–because their style, closer to the early-century modes of British choral writing than to anything resembling "American", is so different from the program's other works, and because Willan was English-born (in 1880) and spent the last 54 of his 87 years in Toronto, Canada (not that there's anything wrong with that!). But who wants to get technical? These are gorgeous pieces–and this Trinity College choir sings them to the manner born.
As it does everything else here, which hopefully will inspire some other fine British choirs to take the plunge, so to speak, across the ocean and not only bring some exceptional music into the European choir repertoire, but also to bring it to the attention of those of us over here who may not have heard the work of Ola Gjeilo, or perhaps these fine Steven Stucky pieces. Of course there's much more I haven't mentioned, but I urge you to discover it all for yourself–like William Hawley's fascinating Mosella and Te vigilans oculis, and Edwin Fissinger's luscious Lux aeterna. Highly recommended.
David Vernier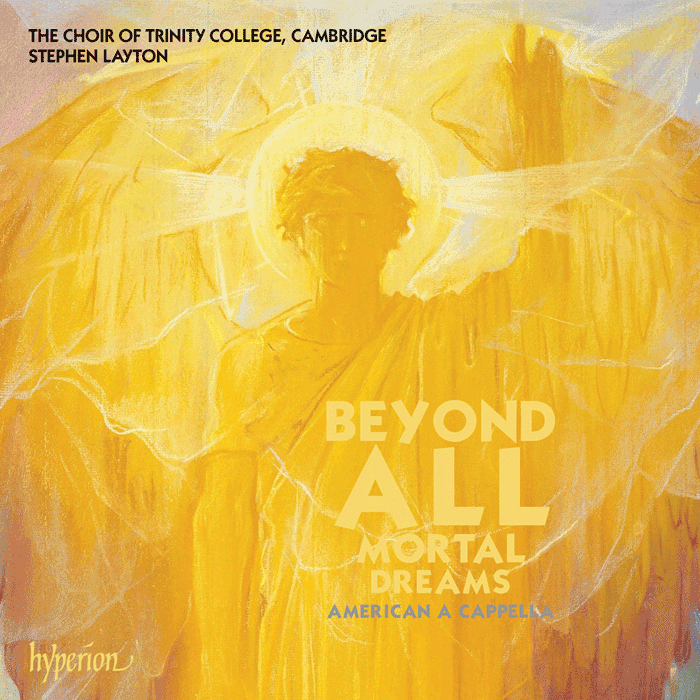 Hyperion Records CDA67832