David Briggs - Mass for Notre Dame - International Record Review
> See recording details...
There's only one word for this. Spectacular.
Let's start with the recording. Gloucester Cathedral is an eminently sensible choice of location, for not only is its generous acoustic far more suited to music on this expansive scale than the choir's home soil back in Cambridge but the organ is one intimately known to David Briggs, who clearly revels in its manifest glories. Hyperion's engineers have put the music nicely at the centre of the stage but with the lavish acoustic, suitably tamed and restrained, very much at the heart of it all. There's a lovely unaccompanied setting of Ubi caritas (interestingly, managing to avoid Duruflé until the 'Amen') which seems to float around the cathedral like so much incense smoke catching the light streaming in through the windows, while the massive bursts of organ improvisation – notably that prompted by the Te Deum – mostly have a kind of frenzied breathlessness which would be claustrophobic in a more immediate aural setting, yet emerge here with spaciousness but also considerable clarity of detail (the bubbling organ introduction to the 'Benedictus ' is beautifully caught by the microphones).
Equally spectacular is the choral singing. It was the late George Guest who used to suggest that any choir would sound good in the King's College, Cambridge acoustic, but a choir had to be very good to sound well in a less sympathetic one (he suffered from a rather less kindly acoustic down the road at St John's). He proved his point time and time again when the St John's Choir went out on the road, as do its present-day Trinity College counterpart, but it strikes me that it takes a very special choir indeed to make not just a good sound but to maintain total musical integrity when out of its home territory and in as sumptuous an aural setting as Gloucester Cathedral. We know from its impressive history of fine recordings that the Trinity College Choir is musically one of the best around, but here it makes a truly spectacular sound. Stephen Layton has inspired his singers to heights of magnificence, relishing Briggs's penchant for rich, sumptuous harmonies and ravishing melodic lines, but at the same time moving beyond mere effect and rooting out the genuine musical intensity behind these finely crafted works.
Then there is the spectacular music. Since I first heard him live in his days at Truro, I have been spellbound by Briggs's exceptional gifts as in improviser. True, his improvisations have such persuasively French accents that one wonders whether he can still speak English, yet this is no mere pastiche-Messiaen or pseudo-Duruflé (although the improvised Sortie will be mistaken by some, I'm sure, for Duruflé's own Toccata) but a musical voice of real individuality. He draws perhaps more from early twentieth-century Paris than anywhere else but is a distinctive personality in his own right. His improvisations here are brilliant – there's no point suggesting otherwise – but more significant are his written-out choral works. The musical voice we hear in the improvisations is certainly present in the choral music, yet it's so finely crafted and idiomatically written that we realize that, as a composer, Briggs is no mere writer-out of inspirational ideas but a man with a well-honed gift for creating true music.
Last, but by no means least, is the spectacular playing of Briggs himself. Whether he's leaping about the organ with the athleticism of a World-Cup goal-scorer or writhing in intense introspection (like an injured mid-fielder, but with greater conviction), he has that sense that he knows exactly what he's about, creating dramatic and powerful effects with dazzling virtuosity and in total control of the instrument.
As I say, there's only one word for this. Spectacular.
Marc Rochester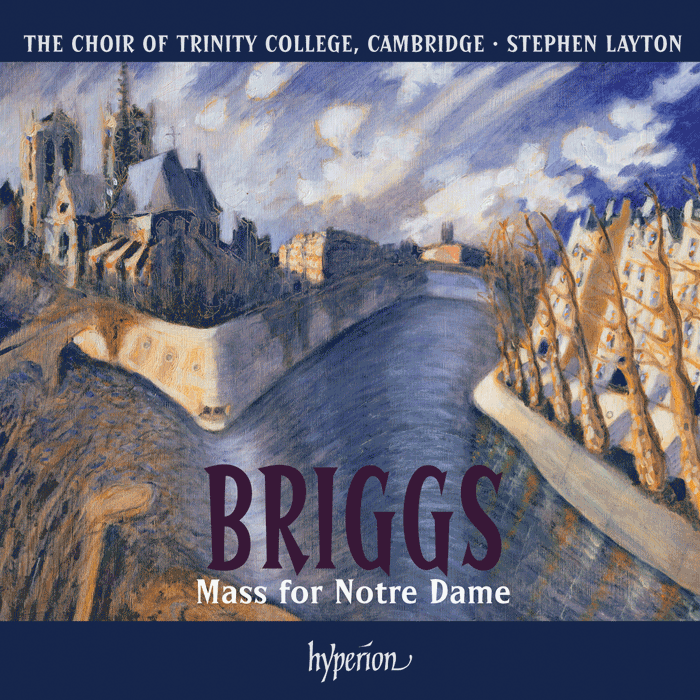 Hyperion Records CDA67808