Handel - Dettingen Te Deum - Classica Répertoire France
> See recording details...
Le Te Deum de Dettingen date de la fin de période créatrice de Georg Friedrich Haendel (1743), et le montre à l'apogée de ses moyens. Le Saxon fait montre d'une maîtrise technique incomparable, notamment dans des fugues magistrales, qui emportent immédiatement l'adhésion de l'auditeur. On dénombre en tout et pour tout six versions, parmi lesquelles la très belle interprétation de Simon Preston (Archiv). Celle de Stephen Layton située à un point d'équilibre. Elle prend acte des recherches muscicologiques du mouvement baroque, mais elle s'inscrit aussi pleinement dans la tradition hændélienne la plus << british>>. Le chef a en effet choisi, contrairement à nombre de ses collègues baroqueux, d'avoir recours à un chœur d'adultes mixtes, ce qui s'avère pertinent: les voix d'enfants auraient sans doute la plus grande peine à venire à bout des pages périlleuses que Haendel a destinées aux pupitres de sopranos et d'altos. Ici, le chœur de Cambridge est impeccable de bout en bout, d'une justesse et d'un engagement enthousiasmants. Traditionnel aussi, le choix d'un effectif assez fourni (32 chanteurs), qui se justifie pleinement dans une œuvre qui joue aussi ouvertement la carte de la puissance. À ses confrères baroqueux, Stephen Layton emprunte des tempos toujours vifs, et le choix d'un ensemble d'instruments anciens. Mais ce que l'on entend ici n'a plus rien à voir avec les premiers enregistrements de l'Academy of Ancient Music, qui sonnaient parfois terriblement <<crincrin>>. Il s'agit désormais d'un ensemble qui a acquis une cohésion et une homogénéité remarquables, notamment au niveau des cuivres, qui parviennent à exploiter une gamme de nuances tout simplement miraculeuse. On apprécie d'autant plus leur qualité que les interventions des trompettes sont nombreuses et virtuoses. Le chef dirige tout cela avec conviction, mais sans brutalité, faisant même entendre des couleurs un peu pastel dans un répertoire que beaucoup défigurent par une tendance à tout jouer trop fort. Ajoutons à cela des solistes aguerris, rompus à ce répertoire et parfaitement en situation, et l'on comprendra que le bonheur est complet.
Le disques est complété par un Concerto pour orgue joué avec virtuosité par Richard Marlow, et il se conclut par Zadok The Priest, une des Coronation Anthems les plus célèbres de Haendel, où l'on retrouve les qualités interprétatives du Te Deum.
Dominique Joucken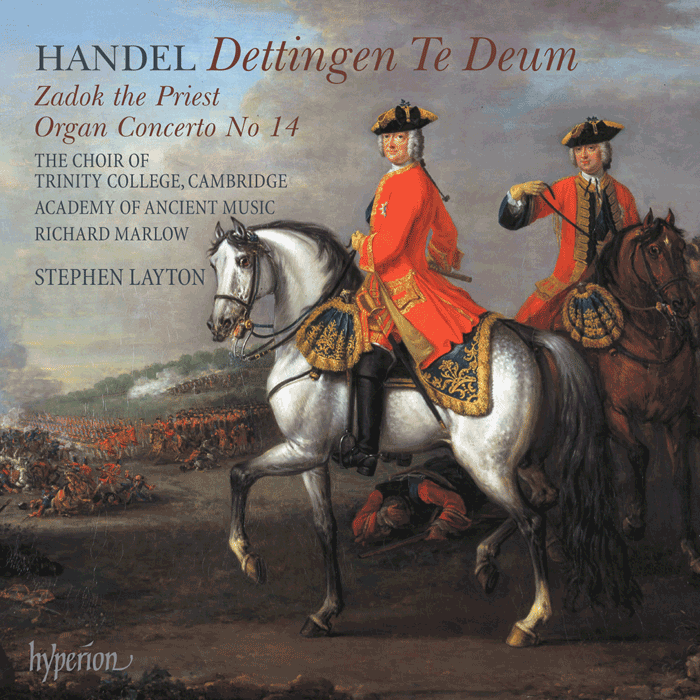 Hyperion Records CDA67678