Handel - Dettingen Te Deum
Recorded 29 June-1 July 2007. Released June 2008.
SUNDAY TIMES – CLASSICAL CD OF THE WEEK

"In a performance as precise and exuberant as this (wonderfully expressive diction from the Trinity Choir), its trumpet-and-drum-fuelled extroversion comes across as elementally exciting." – The Daily Telegraph
A true Handelian tub-thumper, the 'Dettingen Te Deum' was written to celebrate King George II's victory over the French at the eponymous battle of 1743 – famous as the last occasion on which a reigning British monarch personally led their army in the field. This recording also enjoys a certain significance as the only album to feature two Trinity Directors of Music, with Richard Marlow appearing as organ soloist in the year after his retirement.
> Album page and digital booklet at Hyperion Records
This album is available on Spotify: use the embedded player below to listen to track previews; click on the album title to listen to the album in full on Spotify.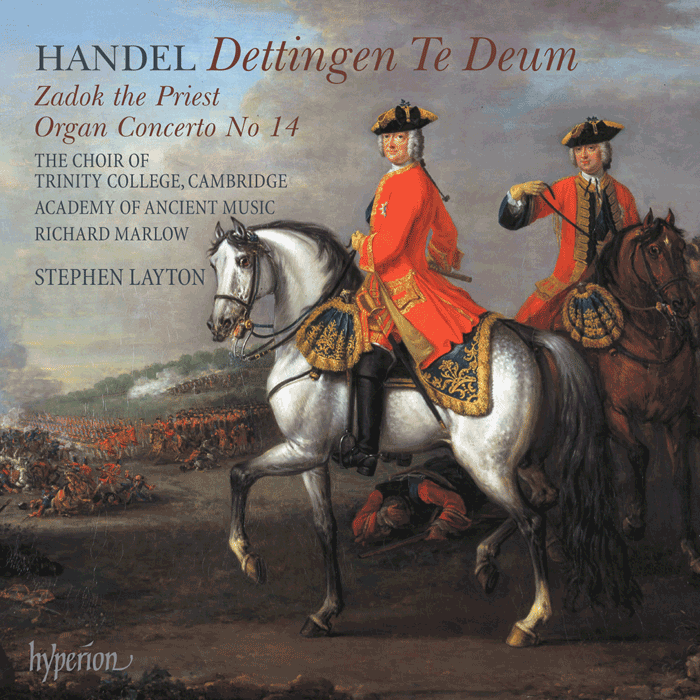 Hyperion Records CDA67678
Performers
The Choir of Trinity College Cambridge
Christopher Lowrey (Countertenor)
Robin Firth (Tenor)
Neal Davies (Bass)
Richard Marlow (Organ)
Academy of Ancient Music
Stephen Layton (Conductor)