Handel - Dettingen Te Deum - The Dominion Post, New Zealand
> See recording details...
Whenever we see the name Te Deum before a piece of music we know we are going to get a spectacular display, for a Te Deum is a celebration. The Te Deum has its origins as an early Christian hymn of praise, and is often called the Ambrosian Hymn. Handel composed five Te Deums with the vest known being the Utrecht Te Deum of 1714 and the Dettingen Te Deum of 1743. With the latter work Handel nearly made a serious faux pas for he was celebrating a minor military victory by George II in the Austrian War of Succession – a war that had nothing to do with England, and was resented for the use of English assets. As a result, and because of a number of logistical setbacks, the work was finally given a low key premiere in the smallish space of the Chapel Royal of St James five months after the battle.
It is a spectacular piece with trumpets and drums and for those who like both the Messiah and the Music for the Royal Fireworks – it shares characteristics of both – you will really take to it. The Organ Concerto with a soft toned intimate sounding organ and the famous anthem Zadok the Priest make fine middleweights, and all performances are superbly alive and the recording quality is spectacular.
John Button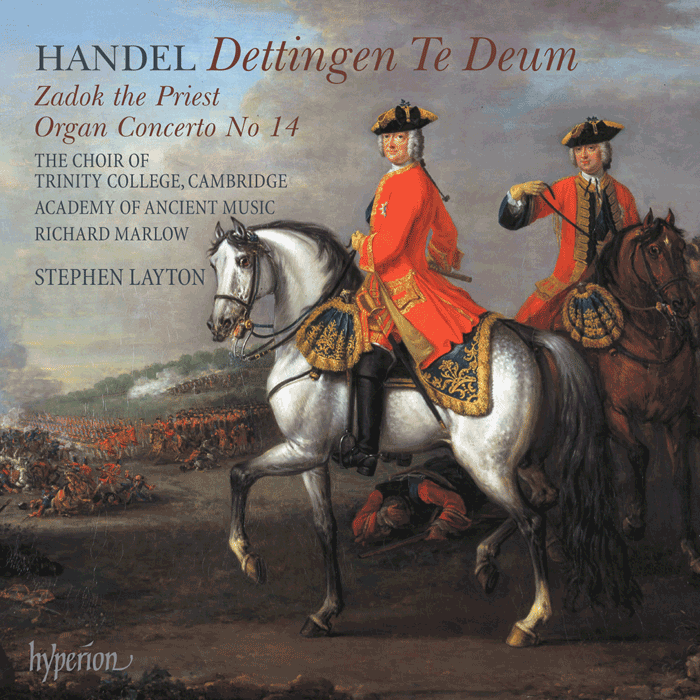 Hyperion Records CDA67678