Handel - Dettingen Te Deum - Goldberg Magazine
> See recording details...
When news reached London in the summer of 1743 that a King George II-led army had defeated the French at the Battle of Dettingen. Handel jumped into action and commenced work on a grand Te Deum. He had a performance at St Pauls Cathedral in mind, but politics and fate intervened and the Dettingen Te Deum never received the epic St Paul's treatment. Instead it was given five months after the battle in a performance at the Chapel Royal service at St James's in November.
The opening martial fanfare with massed trumpets, winds and drums is as exciting as anything we have from Handel and the Trinity College Choir and Academy of Ancient Music make a rousing noise. There's more than testosterone-fuelled pomp here however. Handel gives us some finely crafted solo writing for the alto "All the earth doth worship thee" and bass "When thou tookest upon thee to deliver man".
The performances are brilliant. Bass Neal Davies voice has marvellous power and when accompanied by the sublime trumpet playing of David Blackadder in the aria "Thou art the King of Glory," he stops the show. The choral singing is a model of clarity and beauty and Stephen Layton leads this magnificent performance with a true sense of occasion. The recording is rounded out with excellent performances of the Organ Concerto No. 14 and the anthem Zadok the Priest. While it's probably considered politically incorrect to be stirred by martial sounds, I'll take the heat and happily embrace this thrilling recording.
Craig Zeichner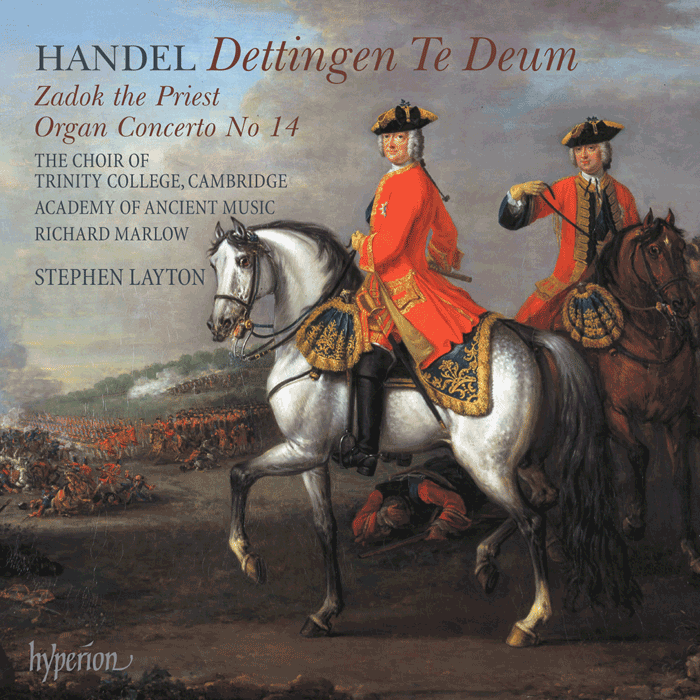 Hyperion Records CDA67678