Handel - Dettingen Te Deum - Gramophone
> See recording details...
Handel reportedly remarked that what the English really liked was music that "hit them on the drum of the ear". He certainly gave them that in the festive Dettingen Te Deum, hastily composed to celebrate George II's victory against the French in 1743 – the last time a British monarch personally led his troops into battle. Hugely popular in Handel's lifetime, the Te Deum has been sniffily treated by modern scholars, suspicions of its militaristic trumpeting and drumming. Yet in a performance as expert and committed as this the pealing D major choruses, built from minimal means (and pilfering liberally from a Te Deum by Urio), have an elemental boldness and grandeur of effect of which Handel invariably possessed the secret. The composer was also careful to leaven ceremonial splendour with lyrical, reflective episodes such as the gently lilting "When thou lookest" and the imploring "Vouchsafe, O Lord". Surprisingly, the final chorus is a graceful triple-time dance (shades here of "And the glory of the Lord" in Messiah) that, as David Vickers suggests in his informative note, conveys a mood of gratitude and warmth rather than bellicose triumphalism.
Stephen Layton obviously believes strongly in a work that today ranks almost as neglected Handel. Under his fervent, energetic direction, Trinity College Choir (topped by a notably pure soprano line) strikes a nice balance between choral-scholarly refinement and earthy, swashbuckling directness in the swaggering D major choruses. The Academy of Ancient Music match them in style and panache, with superb trumpet solos from Davis Blackadder. Layton and his responsive forces also beautifully catch the quiet, introspective gravity of numbers like the chorus "We believe that thou shalt come to be our judge" and "Vouchsafe, O Lord", sung with hushed intensity by Neal Davies. Choral-orchestral balance is ideally judged in the atmospheric acoustic of Trinity College Chapel. Complementing the inspiriting performance of the Te Deum – one to make you upgrade the work's status – is a properly overwhelming account of Zadok the Priest, resplendent without ponderousness, and a delightfully deft one (on a silvery-toned, six-stop chamber organ) of the A major concerto that Handel quickly recycled as the Concerto grosso Op 6 No. 11.
Richard Wigmore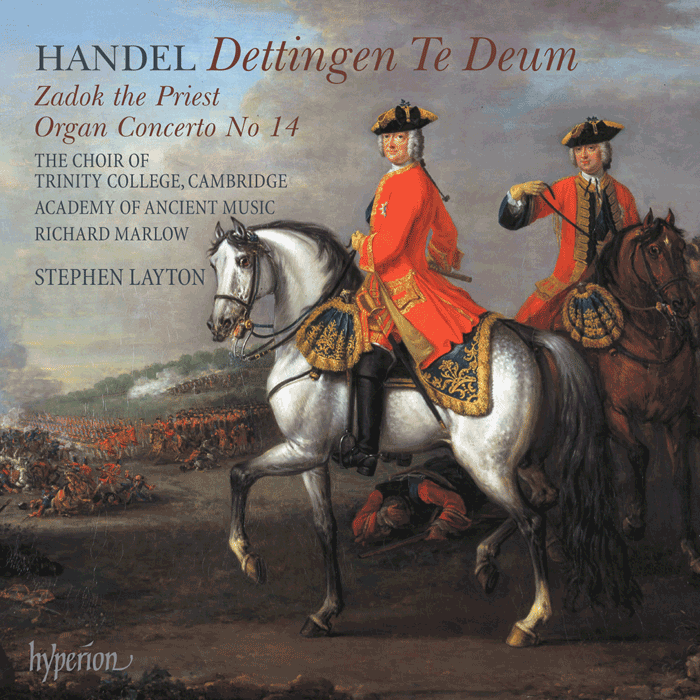 Hyperion Records CDA67678