Handel - Dettingen Te Deum - The Sunday Times
> See recording details...
A man with astute political antennae, Handel made something of a faux pas with his Te Deum to celebrate George II's victory over the French at the Battle of Dettingen in 1743. Intended as a big public celebration in St Paul's of a royal military hero – the king was the last British monarch to leads his troops into warfare – it was eventually performed, on George's return to London, at the intimate Chapel Royal of St James's Palace, because Britain was not officially France's enemy in the was of the Austrian succession. If not from the top drawer of Handel's choral compositions – the splendid anthem Zadok the Priest, written for George's coronation in 1727, certainly is – it is in his best ceremonial style, with much braying of trumpets and banging of drums. In this excellent account by Layton, the most striking numbers are the internalised prayers for redemption and mercy, rather than the royal brown-nosing and tub-thumping. The youthful (undergraduate) voices of Trinity's choir sing superbly throughout, and quite magnificently in Zadok, which rounds off the disc climatically after a stylish performance of the A major Organ Concerto by Richard Marlow.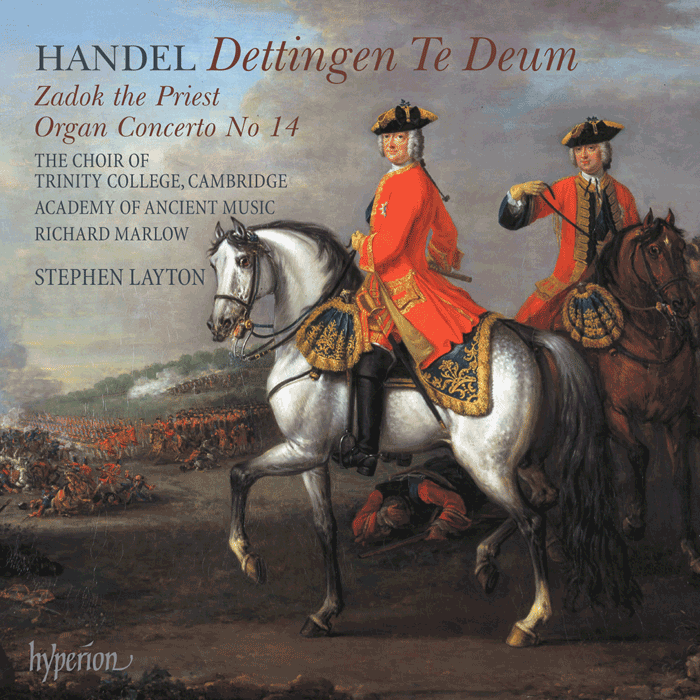 Hyperion Records CDA67678